Disclaimer
The Dover Public Library website offers public access to a wide range of information, including historical materials that are products of their particular times, and may contain values, language or stereotypes that would now be deemed insensitive, inappropriate or factually inaccurate. However, these records reflect the shared attitudes and values of the community from which they were collected and thus constitute an important social record.
The materials contained in the collection do not represent the opinions of the City of Dover, or the Dover Public Library.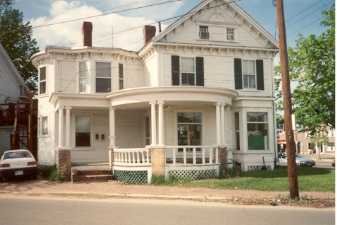 Joseph Morrill (1796-1871) built two Morrill blocks on Central Avenue. The first Morrill Block was built in 1844 at the corner of Second Street and Central Avenue. Tenants included the Spofford- Allis Clothing Company, Dover's first chain store, Lothrop and Pinkham's Pharmacy and a hall used by Pythians, Oddfellows, Redmen, and various Dover bands.  It was a commercial success so he built a much larger block adjacent to the first in 1870. 
The new Morrill Block, located at 468-484 Central Avenue was a four story wooden building. A fire January 3, 1932 razed the building and wiped out 26 businesses
This historical essay is provided free to all readers as an educational service. It may not be reproduced on any website, list, bulletin board, or in print without the permission of the Dover Public Library. Links to the Dover Public Library homepage or a specific article's URL are permissible.