located at Garrison Hill.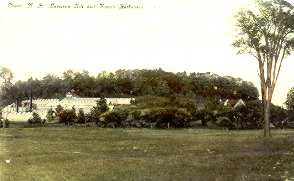 This enterprise consists of 14 greenhouses covering more than an acre of ground, while the nurseries cover more than 5 acres, the whole making the largest establishment of its kind in New Hampshire. Here are grown roses, violets, pinks geraniums, and chrysanthemums, and all the most delicate and exquisite flowers are grown the year round. Also, every description of ornamental trees and flowering shrubs, fruit trees, etc. This is the fourth greenhouse enterprise of Mr. Howe's. He came from Nashua ten years ago and purchased the site then occupied by Henry Johnson, whose green houses had been destroyed by fire. He rebuilt the plant on a much larger and more elaborate plan.  This splendid plant has been constantly enlarged and improved until it is the largest establishment of its kind in the state. The nurseries are on the slope of Garrison Hill facing the south and are particularly well adapted the requirement of the business. Mr. Howe makes a specialty of floral designs for weddings and funerals. His trade extending throughout all eastern New England. In the summer fifteen gardeners are employed and six delivery teams are required to distribute the products grown. Mr. Howe is a member of the Masons, Odd Fellows and Knights of Pythias and takes a keene interest in the welfare , development and progress of Dover. Mr. Howe is now making preparations for the erection of two new houses in the early spring.
    from "City of Dover, N.H. : resources, development and progress; a series of comprehensive sketches. c. 1901.